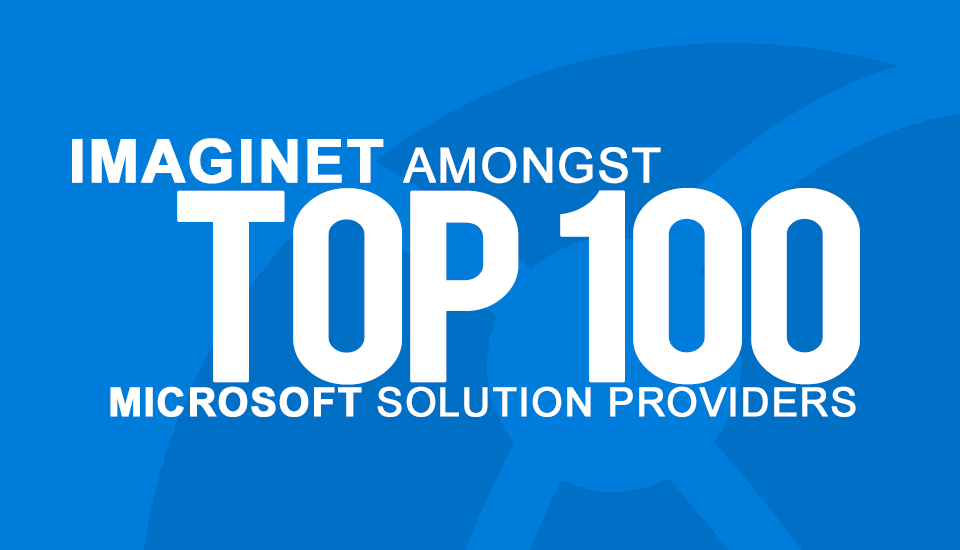 Imaginet earns top accolades for developing innovative solutions and visibility into the Microsoft landscape.
Imaginet announces their recognition as a Top 100 Most Promising Microsoft Solution Provider by CIO Review for their global achievements and new service offerings for enterprises looking to accelerate their business strategy using the Microsoft platform.
"This distinction amongst about half a million partners is really a recognition of our incredible ability to succeed in innovation by combining our unique values and practices with world class people and accepting nothing less," says founder and Chief Innovation Officer, Joel Semeniuk.

Imaginet's Chief Executive Officer, Rod Giesbrecht, continues, "Being recognized as a Top 100 Most Promising Solution Provider in North America is a tribute to both the quality and impact of our teams efforts to accelerate meaningful customer innovations.  We're very proud of our team."
Imaginet has been part of the Microsoft family since 1997 and continues to innovate alongside these giants at a rapid pace to remain at the forefront of technology change.
Recently released was their Imaginet Timesheet product, the first timesheet product developed to support users of both Microsoft TFS and Visual Studio Online.
Historically, Imaginet was the first ever Microsoft Global Partner of the Year in ALM and holds Microsoft Gold Certification distinctions in ALM, Collaboration, and Content and Data Platform.
As a select Azure™ Circle Partner, we are recognized by Microsoft as having the experience to provide its customers with an unparalleled level of expertise.
With multiple Microsoft MVPs, Rangers, Technical Specialists, and Regional Directors on staff, the company recognizes the importance of continuous learning and supports employees while they gain new certifications.
Read the full article here.
=====
Imaginet is your trusted technology partner who turns your business innovation ideas into reality. 18+ years | 1100+ satisfied customers | 2500+ successful engagements. Located in Dallas (Irving), Winnipeg, and Calgary. Services offered worldwide. Contact us today at info@imaginet.com or 1-800-989-6022.