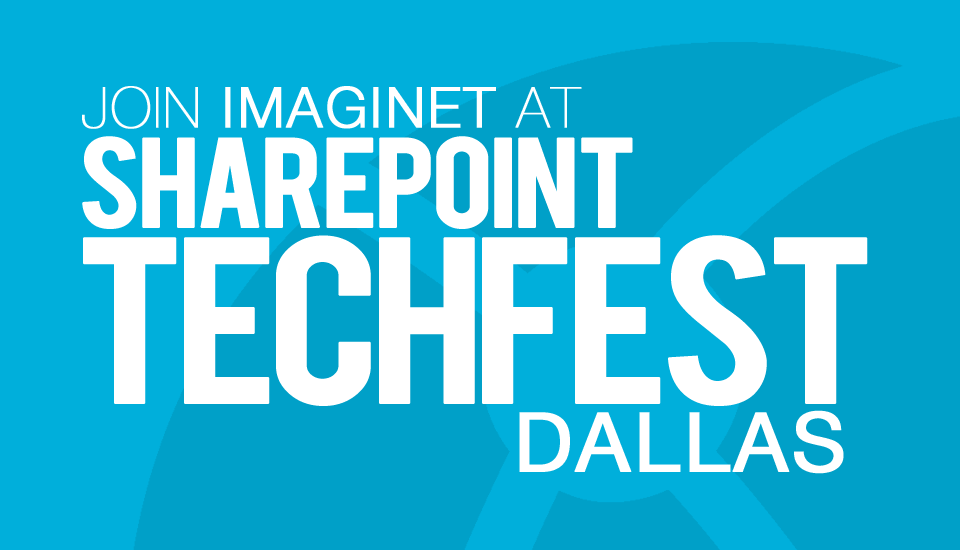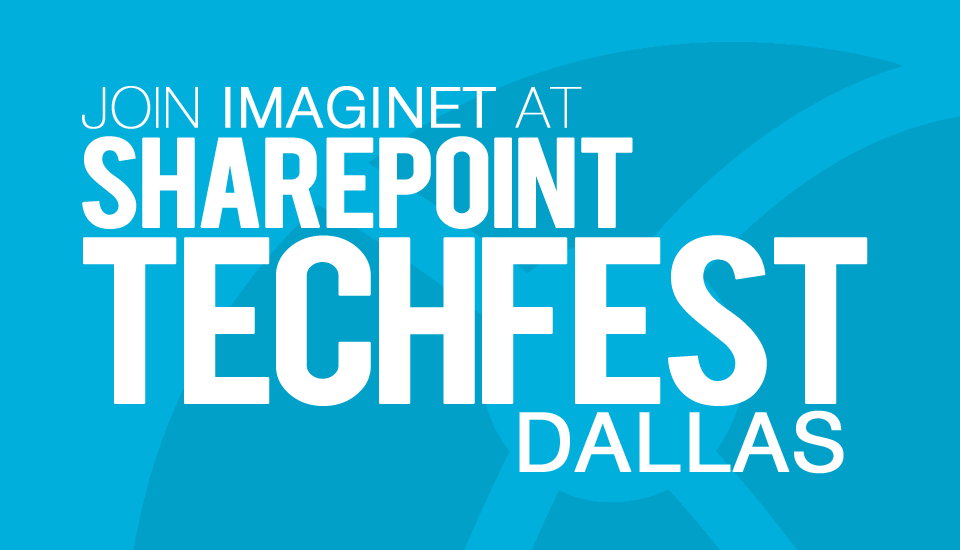 Join us at the 6th Annual SharePoint TechFest on May 1st at the Irving Convention Center in Las Colinas!
Visit our booth (Booth #316) at the conference to meet with us and for your chance to win one of our great prizes including: an Xbox One, a Surface RT, Best Buy and Starbuck gift cards, and more.
As a 'thank you' to all of our valued customers, Imaginet offers you a special discount to register for SharePoint TechFest for $149 (25% off the regular price with Discount Code IM149D). Registration includes 25+ conference topics, keynote luncheon, reception, goody bag, prizes and more.
To register, simply visit: www.sharepointtechfest.com/dallas (enter code IM149D)
Here is a sneak peek at Imaginet's SharePoint TechFest session:
Choosing the Right Form Based Solution for SharePoint 2013
Featuring Jeremiah Walker, Senior SharePoint Consultant, Imaginet,
and David Wood. VP Information Worker Division.
With the end of life announcement for InfoPath being delivered by Microsoft, many customers are wondering what the current options are for Forms Based solutions in SharePoint 2013.
This session will provide attendees with key information on replacement options to meet Forms Based requirements in SharePoint 2013. We will provide a decision framework to assist with requirements evaluation and decision making that enables long term sustainability because our experts work with you to create lasting SharePoint solutions.
Join us at this session for your chance to win a Surface RT and at our Imaginet Cocktail Happy Hour to win an Xbox One! We hope to see you there!
=====
Imaginet is your trusted technology partner who turns your business innovation ideas into reality. 18+ years | 1100+ satisfied customers | 2500+ successful engagements. Located in Dallas (Irving), Winnipeg, and Calgary. Services offered worldwide. Contact us today at info@imaginet.com or 1-800-989-6022.