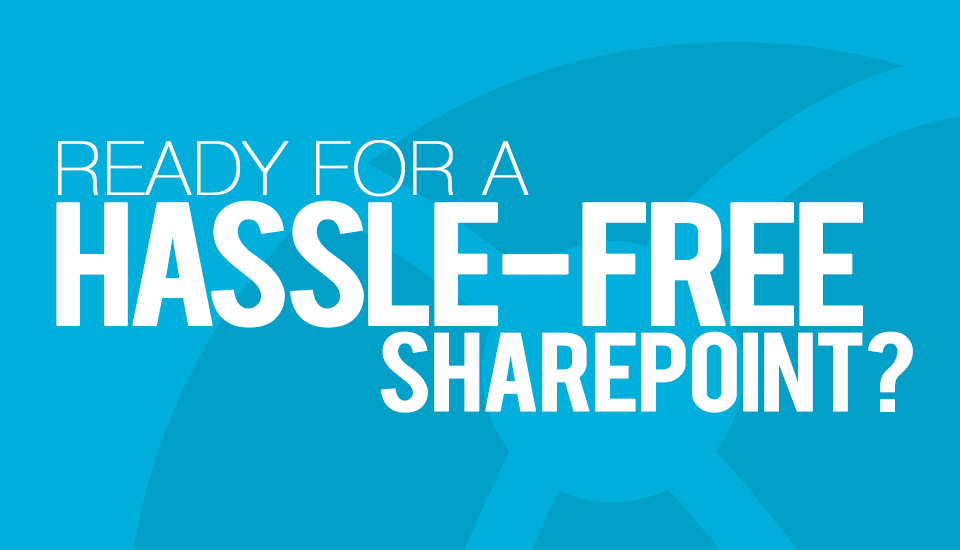 Migrate to Microsoft SharePoint Online on Office 365 and experience the hassle-free difference.
With Microsoft's 'cloud first, mobile first' focus, Microsoft is in the process of converting many of their customers' licenses from SharePoint On-Premise to SharePoint Online on Office 365. This gives many organizations the automatic ability to take full advantage of the cloud and paves the way for a more hassle-free SharePoint for you.
Has Microsoft recently flipped your SharePoint On-Prem licenses to SharePoint Online on Office 365?
Are you interested in taking advantage of these new licenses and migrating your existing SharePoint to the cloud?
If so, how will you provide single sign-on from your organization directory? How will you migrate SharePoint customizations, 3rd party applications, metadata, version history and workflows to SharePoint Online?
If you are looking to answer these questions, Imaginet can help. Most organizations lack the experience to know how to successfully migrate to Microsoft SharePoint Online, but working with a SharePoint expert like Imaginet can help to make your migration a smooth success.  With over 100 successful SharePoint deployments and migrations under our belt, Imaginet is the trusted partner for any organization looking to migrate their SharePoint to the cloud.
Reduce your migration risk and waste by using Imaginet's proven Cloud Migration Framework. We will provide you with a technical assessment and a focus on the key considerations surrounding your cloud adoption. Imaginet's flexible engagement models provide a spectrum of offerings including operational governance, full migration execution, and collaboration enhancements for up to 5 business units.
Experience Imaginet's solid reputation for your SharePoint migration first-hand!  Click the button below to contact us to schedule your free consultation call today.
Request Your Free Consultation
=====
Imaginet is your trusted technology partner who turns your business innovation ideas into reality. 20+ years | 1200+ satisfied customers | 2500+ successful engagements. Located in Dallas (Irving), Winnipeg, and Calgary. Services offered worldwide. Contact us today at info@imaginet.com or 1-800-989-6022.