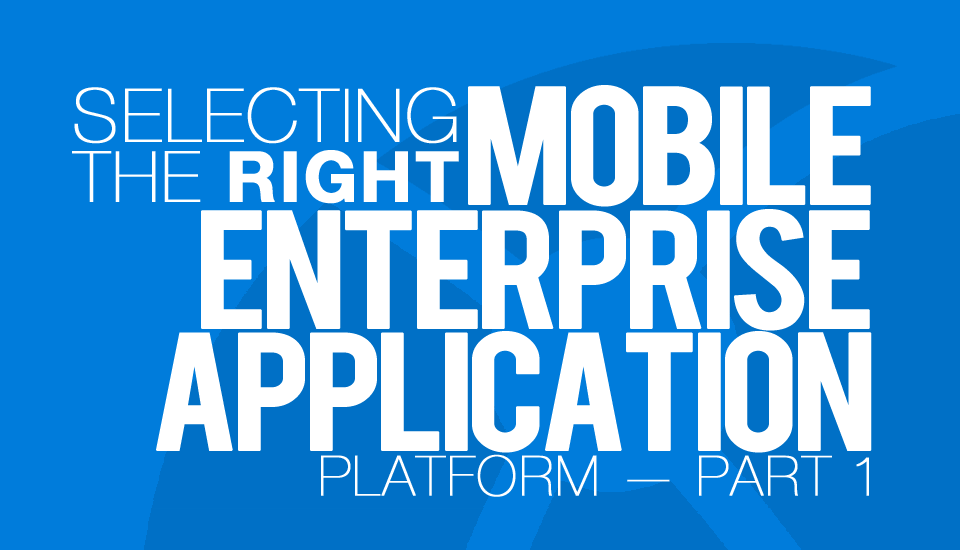 There is a wave of change (and opportunity) hitting enterprises as a result of mobile technologies. This wave of change refers to how employees use mobility in their day-to-day jobs within the enterprise, otherwise known as "enterprise mobility". (see "Are You Ready for the Mobile Tsunami?")
According to Symantec (2012), over half of all businesses are already making line-of-business applications accessible from mobile devices. It is becoming imperative for enterprises to develop a solid mobile strategy for their organization in order to successfully ride this wave of change.
For CTOs, CIOs, and Directors of IT, selecting the right Mobile Enterprise Application Platform (MEAP) is a critical component of your overall enterprise mobile strategy. When you have an optimal foundation for your mobile apps, you can experience extensive short- and long-term benefits, including:
Reduced fragmentation between legacy and mobile development efforts
Reduced development and maintenance costs
Faster time to market
Ease of keeping the apps up to date
Enhanced mobile security
Here are 4 key factors that you should consider for choosing the right client-side mobile enterprise application platform (MEAP) for your organization:
Development Environment, Setup, and Testability
The ease and fluidity of the development environment, setup, and overall testability on the client-side mobile platform can help maximize your mobile app team's productivity. Some specific considerations include:
Does the MEAP allow developers to "code once, deploy many" to multiple mobile platforms?
How easy is the initial environment setup?
Are there any additional "hidden" setup requirements that may delay development?
Does it have built-in or easy integration with source code management tools?
What kind of debugging and emulation (i.e. the ability to virtualize execution on a target platform) capabilities does it provide?
What other productivity features are available (i.e. in-browser editing)?
What is the overall client-side testing experience?  Can it integrate with existing automated and unit testing tools?
Does it support automated deployments to mobile device management (MDM) systems?
Application Requirements
Zeroing in on your specific application requirements can quickly help you weed out the client-side mobile platforms that will not meet your needs. Some specific considerations include:
What are your application performance requirements, and will you need the performance benefits of a native app?
Does the app need to do any intense graphic processing or require direct access to the graphics hardware (i.e. for game development or mostly anything 3D)?
How important is the user experience from a performance point of view? For example, it's easier to build a high performant UI with very smooth animations and transitions in a native app.
How important is it that your app looks and feels like a native app on each platform? For example, it is much easier to make a native app that uses the same controls, UI paradigms, navigation, etc. as other native apps.
What are your application requirements for how your enterprise data will be protected?
Skills Required
Choosing a client-side MEAP that aligns with your mobile app team's existing skills and tools can help reduce your mobile app team's learning curve. Some specific considerations include:
Does your team already have the appropriate coding skillset for the selected platform (i.e. .NET versus Java)?
Does it provide IDE integration to your team's existing familiar development suite and editors (i.e. Visual Studio or Eclipse)?
Does it use standard web languages and frameworks to minimize learning curves?
Does it leverage any other existing tools with which your team is already familiar?
How deep is the community of support to assist developers when using unfamiliar areas of the client-side platform?
Price
The different client-side mobile platforms can have very unique pricing models, which can certainly sway your decision in favor of one platform over another.  Some specific considerations include:
What is the pricing model of the client-side MEAP? Is the platform charging per developer? Or per month per unit?
Are there discounts available?  For example, do developers get free accounts?
Is training included with your purchase?
Is there a free trail available before committing to a final platform purchase?
Taking these essential factors into consideration will aid you in choosing the optimal client-side platform that will best support your overall enterprise mobile strategy.
Stay tuned for next month's article, where we will explore some of the key factors when selecting the right server-side mobile enterprise application platform (MEAP).
=====
To find out more about Imaginet's Mobile Application Development services and offerings, please visit http://www.imaginet.com/mobile-app-development-services/.
Imaginet is your trusted technology partner who turns your business innovation ideas into reality. 18+ years | 1100+ satisfied customers | 2500+ successful engagements. Located in Dallas (Irving), Winnipeg, and Calgary. Services offered worldwide. Contact us today at info@imaginet.com or 1-800-989-6022.