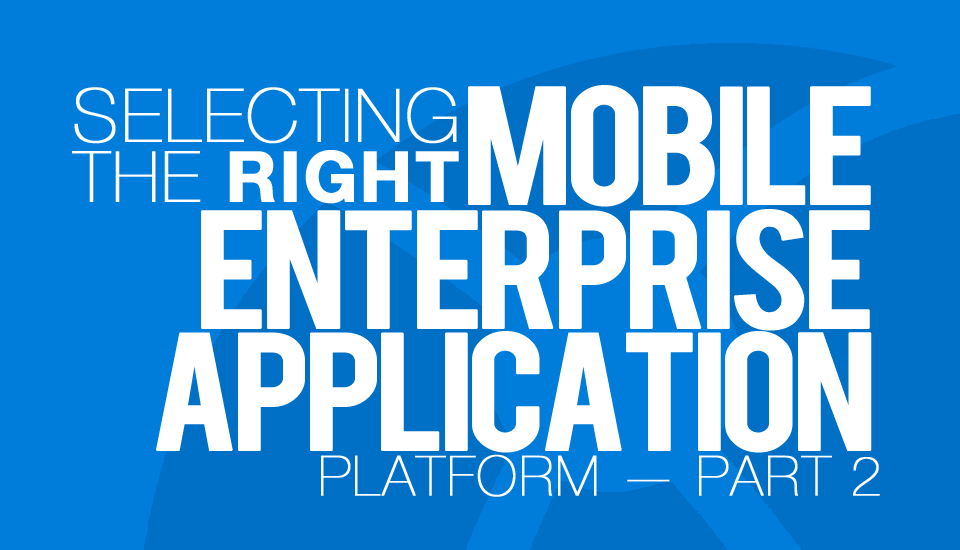 Choosing the right Mobile Enterprise Application Platform (MEAP) is an essential part of your overall enterprise mobile strategy. By selecting the optimal client-side and server-side MEAPs, you can reduce your development and maintenance costs, time to market, and overall development efforts.
Last month, we took a detailed look at some important factors for selecting the right client-side MEAP (see "Selecting the Right Mobile Enterprise Application Platform – PART 1"). In this month's article, we will discuss 5 key factors that you should consider for choosing the right server-side mobile enterprise application platform (MEAP) for your organization and why. While there is some overlap between the client-side and server-side MEAP selection criteria, there are also some unique considerations that must be taken into account when choosing your optimal server-side platform.

1.   Integration – Unlike mobile marketing apps and games, enterprise mobile applications require integration with existing enterprise systems, such as legacy applications, databases, and/or web services. When integrating with these enterprise systems, a number of critical factors come into play, such as authentication, data security and integration testing. Some specific considerations include:
How will the authentication to the enterprise systems work with the selected server-side platform?
How easily does it integrate with Active Directory?
How will it support accessing corporate data or other resources behind a firewall?
How will the platform ensure that corporate data is safe and secure?
How does it support integration testing between the mobile app and other enterprise systems?

2.   Hybrid Support – More and more enterprise systems are moving to a hybrid model, meaning that they leverage both on premise and cloud resources. Therefore, server-side platforms must be flexible enough to easily accommodate the dual needs of hybrid enterprise systems.  Some specific considerations include:
How easy is it to utilize both on premise and cloud resources from the platform?
How will the platform ensure that corporate connections between on premise and cloud systems are safe and secure?
What out-of-the-box (OOB) features does the platform offer to simplify access to hybrid systems? For example, does the platform provide any kind of OOB tunneling features?
Are there any unique security restrictions in the hybrid enterprise app that would influence a platform decision?

3.   Flexibility – Having a flexible server-side platform with extensive features can help maximize a mobile app team's productivity. Some specific considerations include:
Which platforms can provide most server-side needs out-of-the-box (OOB)?
If there is a gap in functionality between what is needed and what the platform offers, is there a way to build it in or expand upon existing functionality?
Could any client communicate to the server with HTTP or is a specific client-side framework needed for communication?
Which mobile device types (Android, iPhone, Windows Phone, etc.) will need to be supported and which server-side platforms will easily support them?  For example, an extensive BYOD (bring your own device) policy will have to support all the major mobile device types, whereas a restrictive device policy will only have to honor a single type.
What is the overall server-side testing experience?  Can it easily be streamlined with existing automated and unit testing tools?
How easy or cumbersome is the platform's release process? For example, does it support dynamic data model updates?
Does the platform provide built in SSL support? Are any additional security certificates required?
What kind of logging, monitoring, and administration features are available with the platform? How easy are they to use?

4.   Skills Required – Almost identical to the client-side "Skills Required" selection criteria, selecting a server-side MEAP that aligns with mobile app team's existing skills and tools can help reduce the team's learning curve. Some specific considerations include:
Does the team already have the appropriate technical skillset for the selected platform (i.e. .NET, JavaScript, REST, ASP.NET, etc.)?
Does it provide IDE integration to the team's existing familiar development suite and editors (such as Visual Studio or Eclipse)?
Does it use standard web languages, frameworks, and database types to minimize learning curves?
Does it leverage any other existing tools with which the team is already familiar?
How deep is the community of support to assist developers when using unfamiliar areas of the server-side platform?

5.   Price – Similar to how pricing can affect your client-side MEAP selection, server-side mobile platforms can also have very different pricing models, which can strongly influence a decision.  Some specific considerations include:
What is the pricing model of the server-side MEAP? Is the platform charging per month and/or by unit?
How many connections are supported in the pricing model?  What happens if you exceed the maximum number of supported connections?
Are there limits on the number of supported API calls in the pricing model? What happens if you exceed the maximum number of supported API calls?
What "extras" might your team need to purchase for the platform? For example, if you need more DB space beyond what is offered in the base package, how much extra will that cost?
Are there discounts available?  For example, do developers get free accounts?
Is training included with a purchase?
Is there a free trail available before committing to a final platform purchase?
Consider each of these essential factors when evaluating server-side platforms so that you can choose the right server-side MEAP and overall enterprise mobility strategy for your team. If you need assistance with selecting the right client-side or server-side MEAP criteria for your business, Imaginet is here to help. Contact us today for a free 1 hour consultation!
=====
To find out more about Imaginet's Mobile Application Development services and offerings, please visit http://www.imaginet.com/mobile-app-development-services/.
Imaginet is your trusted technology partner who turns your business innovation ideas into reality. 20+ years | 1200+ satisfied customers | 2500+ successful engagements. Located in Dallas (Irving), Winnipeg, and Calgary. Services offered worldwide. Contact us today at info@imaginet.com or 1-800-989-6022.