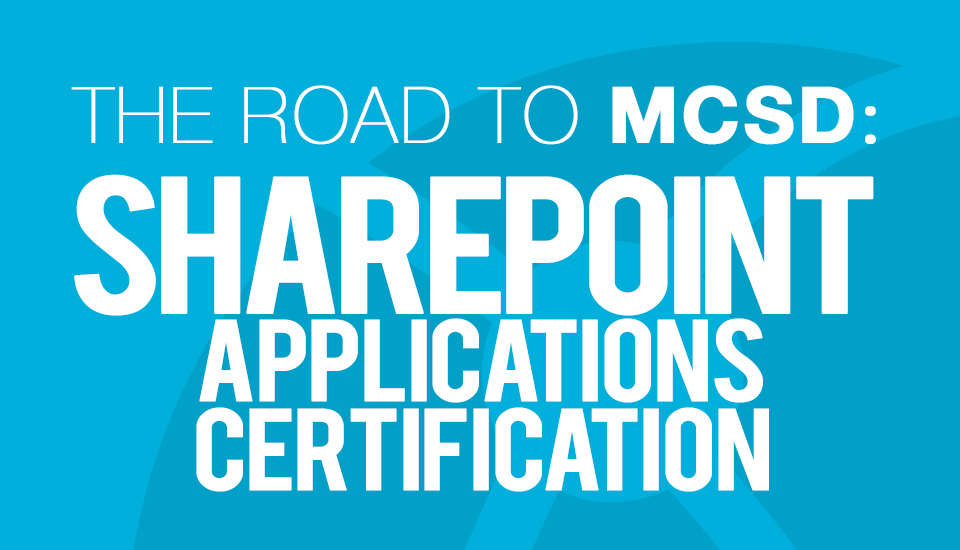 Shortly after joining Imaginet, I began my journey to obtain the Microsoft Certified Solutions Developer (MCSD) certification in SharePoint Applications. In this series of articles, I will share my preparation and experiences for each of the exams. It should be noted that I recently achieved my MCSD in SharePoint Applications certification in October of 2014.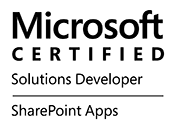 Required Exam Steps (click on each exam for the official Microsoft exam link):
1. 70-480 – Programming in HTML5 with JavaScript and CSS3
2. 70-486 – Developing ASP.NET MVC Web Applications
3. 70-488 – Developing Microsoft SharePoint Server 2013 Core Solutions
4. 70-489 – Developing Microsoft SharePoint Server 2013 Advanced Solutions
70-480 – Programming in HTML5 with JavaScript and CSS3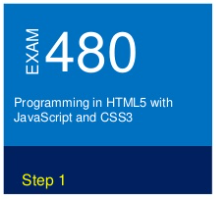 In exam 480, Microsoft is putting an emphasis on ensuring that the next versions of markup and style languages in HTML5/JS/CSS3 are used in SharePoint. This is especially useful when developing solutions for SharePoint Online where backend code is limited. It's important to note that Microsoft is now making a strong effort to push customers into the cloud by migrating to SharePoint Online.
This exam covers everything from DOM manipulation, APIs, and JSON/XML, to CSS inheritance and pseudo classes. This exam isn't SharePoint specific, which means there is a ton of resources that cover all of the topics in this exam. However, as we move up the steps into the more SharePoint centric exams, you'll find less study material.
Note: Passing this first exam 70-480 will give you the Microsoft Specialist certification.
70-486 – Developing ASP.NET MVC Web Applications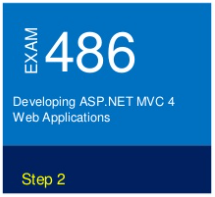 Exam 486 is the second exam on Microsoft's listed path for MCSD certification, and although it isn't SharePoint specific, it's a necessary exam full of required skills that are best practices for developing solutions in the Microsoft ecosystem. 486 covers the development of web applications under the MVC architecture pattern, UX considerations, debugging, and application security configuration. As with exam 480, there are plenty of extra study materials that can be found online.
Exams 480 and 486 provide the foundation of SharePoint Application development. As mentioned before, both exams cover topics that will allow you to have a solid understanding of web development in both technology and methodology.
Note: By passing the 70-480 and 70-486 exams, you can take the 70-487 – Developing Microsoft Azure and Web Services exam to achieve a MCSD: Web Applications certification.
70-488 – Developing Microsoft SharePoint Server 2013 Core Solutions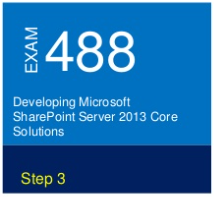 Exam 488 is the third exam listed in the path and is the first of the four to cover topics directly related to SharePoint.
This exam tests a variety of areas that are common to SharePoint development, ranging from creating Out Of the Box (OOTB) client and server side solutions, SharePoint security, creating workflows, and accessing and managing data.
70-489 – Developing Microsoft SharePoint Server 2013 Advanced Solutions
The final exam for your MCSD is 489, and it covers an extensive range of topics that deal with SharePoint and its range of backend services. You will be tested on configuring Search through a variety of query languages, customizing its results, Business Connectivity Services (BCS), configuring User Profiles, Enterprise Content Management (ECM)/Web Content Management (WCM), and performance tuning and troubleshooting.
Another topic covered is the Managed Metadata Service that includes managing term sets, CSOM/SSOM usage, and creating solutions for Profile Pages and Product Catalogs.
That's a high level overview of what you can expect to be tested over in these four exams. Our next article will take an in depth look of the topics covered in the 70-480: Programming in HTML5 with JavaScript and CSS3 exam.
=====
Imaginet is always looking for top SharePoint talent! Interesting is becoming a member of our world-class SharePoint team? Click here to find out more.
Imaginet is your trusted technology partner who turns your business innovation ideas into reality. 20+ years | 1200+ satisfied customers | 2500+ successful engagements. Located in Dallas (Irving), Winnipeg, and Calgary. Services offered worldwide. Contact us today at info@imaginet.com or 1-800-989-6022.