Imaginet is very proud to announce the newest release of Imaginet Timesheet for both Microsoft Team Foundation Server (TFS) 2015 and Microsoft Visual Studio (VS) Online 2015.  With Imaginet Timesheet, you can improve visibility and maximize your team's productivity by having a simple way to track and report team hours against Team Foundation Server work items.
For full details and download information, please visit: http://www.imaginet.com/imaginet-timesheet-for-tfs/.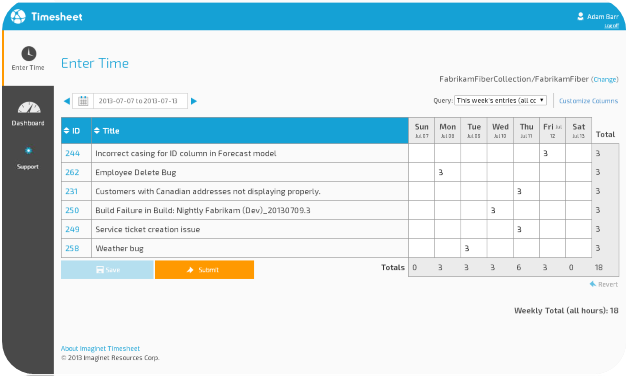 What's New in this Release
Not only is the new release of Imaginet Timesheet compatible with Microsoft TFS and VS Online 2015, this new release also includes additional features and bug fixes, including:
Application now saves the order in which columns are displayed when customized. (see image)
Ability to submit a bug ticket from inside the application. (see image)
Ability to add time to a task that has been previously closed without having to re-open the task.
Audit log capability via a flag in the web.config. (see image)
Better error logging and handling via /elmah. (see image)
More meaningful error messages.
An issue where duplicate values occur when saving hours.
Some performance enhancements.
Why Imaginet Timesheet?
✓  Easily track and report daily hours against TFS work items
✓  Understand how team members spend their time through the use of our time tracking reports and dashboards
✓  Easy to access, with both a web interface and integration with Visual Studio
✓  Improved user experience with a modernized UI and hierarchical work item support
✓  Simple to use, out-of-the-box reports and dashboards
✓  Free to get started with our Community Edition
Download Today!
To download our free Imaginet Timesheet Community Edition (free for up to 5 users), please visit: http://www.imaginet.com/imaginet-timesheet-for-tfs/.
=====
Imaginet is your trusted technology partner who turns your business innovation ideas into reality. 18+ years | 1100+ satisfied customers | 2500+ successful engagements. Located in Dallas (Irving), Winnipeg, and Calgary. Services offered worldwide. Contact us today at info@imaginet.com or 1-800-989-6022.