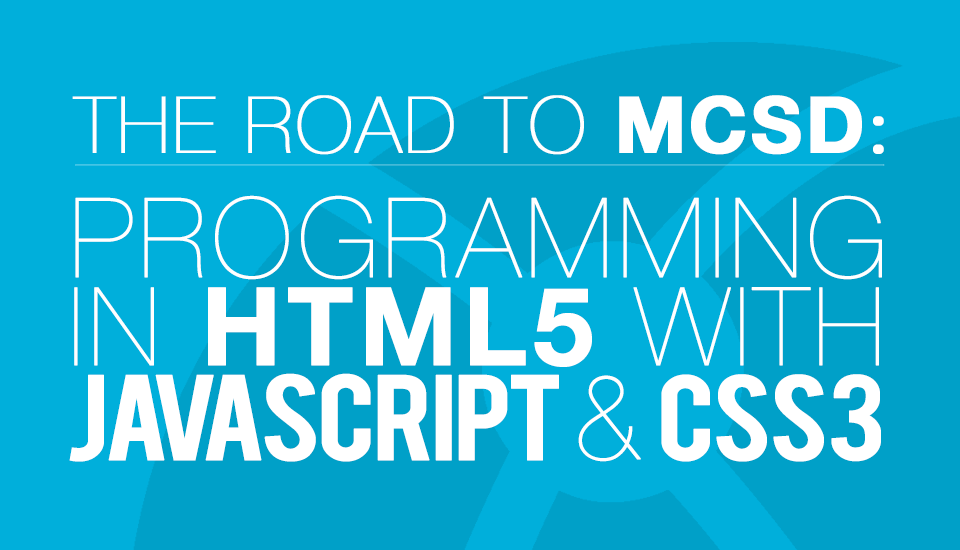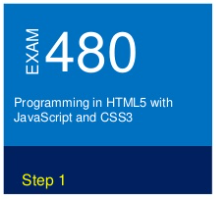 Our first walkthrough on your road to your Microsoft Certified Solutions Developer (MCSD) certification in SharePoint Applications takes us through exam 70-480 – Programming in HTML5 with JavaScript and CSS3. Exam 480 covers the latest version of HTML5 (standardized by W3C in October, 2014), JavaScript, and CSS3, and since all 3 of these technologies are widely used outside of SharePoint, you'll find that there are a ton of resources to help you prepare for this exam.
We'll first discuss how I prepared for the exam through online resources, books, and practice through online sandboxes. Then we'll review how my actual exam went.
Exam Preparation
My experience with HTML5 and CSS3 were adequate at best before this exam. However, development with SharePoint requires you to become proficient with these technologies rather quickly. Client requests on the look and feel of their site and data manipulation are two requirements that come up in almost every engagement at Imaginet. Proficiency in these technologies is particularly important with SharePoint since Microsoft has been pushing its SharePoint Online model with Office 365, and the combination of HTML5 and CSS3 will solve the vast majority of requests you will encounter.
Note: It's important to note that this exam does not cover just the new features found in HTML5 and CSS3. You'll be tested on general HTML/CSS as well as new features.
My first step in preparing for exams is to find a training/reference guide for me to read through and familiarize myself on certain topics that I'm not 100% comfortable with. Microsoft Press has released its Training Guide: Programming in HTML5 with JavaScript and CSS3. I usually skim through guides; however, this one has been one of the first that I've almost completely read. When I look back on my preparation for this exam, I realized that this book did a great job of covering every area of the exam.
A very good reference for overall web technologies that is consistently maintained is the Mozilla Developer Network (MDN). I regularly visit their reference guides and tutorials. You can find their guides on HTML, CSS, and JavaScript. I used MDN in conjunction with the Microsoft study guide any time I needed more deep explanations along with examples on certain subjects. It should be noted that Microsoft Developer Network is a great resource also. They have a great section aimed solely on SharePoint development found here (their REST API reference is rather superb for the exam).
One of the best resources that I highly recommend for each of these exams is the Microsoft Virtual Academy (MVA). MVA is a free resource from Microsoft that houses a library of recorded webcasts featuring certified Microsoft trainers and well known practitioners of various technologies. Below are links to two of the webcasts that relate to exam 480:
Another great resource is CodePen; which is an online sandbox for HTML, CSS, and JavaScript. CodePen allows you develop websites in an online playground that provides real time previews. It's great for modular test cases and a place to share and find creations by other users. This was particularly useful when playing around with sample code snippets. With CodePen, you can paste in sample code and modify it to gain a better understanding on its mechanics. Lastly, Becky Bertram, a SharePoint MVP, has compiled a great list of links for each of the topics covered in the exam. You can find the links on her Exam 70-480 Study Guide. Each of these links will take you to varying resources that provide in-depth explanations on each of the areas covered in this exam.
Exam Areas
Implement and manipulate document structures and objects – 24%
Create the document structure
Write code that interacts with UI controls
Implement HTML5 APIs
Establish the scope of objects and variables
Create and implement objects and methods
Implement program flow – 25%
Implement Program Flow
Raise and handle an event
Implement exception handling
Implement a callback
Create a web worker process
Access and secure data – 26%
Validate user input by using HTML5 elements
Validate user input by using JavaScript
Consume data
Serialize, de-serialize, and transmit data
Use CSS3 in applications – 25%
Style HTML text properties
Style HTML box properties
Create a flexible content layout
Create an animated and adaptive UI
Find elements by using CSS Se lectors and jQuery
Structure a CSS file by using CSS selectors
The Exam
The exam itself is a mixture of questions in the form of multiple choice (including multiple answers), drag and drop (fill in the blank, code snippets). I believe the exam time was around 150 minutes with a few case studies. I never felt rushed through the exam, but remember to take your time and read the questions thoroughly, and you'll pass with no problems!
Note: Microsoft is currently offering its Second Shot special offer. Any exam you do not pass between January 5, 2015 and May 31, 2015 will be available for you to retake free of charge within a 30 day window from the failed test date. More info here.
========
Imaginet is always looking for top SharePoint talent! Interesting is becoming a member of our world-class SharePoint team? Click here to find out more.
Imaginet is your trusted technology partner who turns your business innovation ideas into reality. 18+ years | 1100+ satisfied customers | 2500+ successful engagements. Located in Dallas (Irving), Winnipeg, and Calgary. Services offered worldwide. Contact us today at info@imaginet.com or 1-800-989-6022.