It can be lengthy process for Marketing Teams who are creating and publishing content to a company intranet, public facing website(s), or social media. The process starts with a team member writing an initial draft of content. The content then goes through a chain of emails and/or meetings for editing, reviewing, and approving. Once approved, the content is sent to another team to publish it to external sites or social media to start the campaign. It is a lengthy and manual process. For some companies, it may also involve the IT team or other resources, which can makes the process even longer.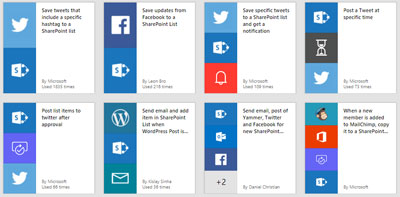 In this step-by-step article, we will demonstrate  how you can take advantage of Microsoft Flow to help shorten and automate this process.
Using one of the built-in Flow templates, we are going to create a workflow to trigger an approval process for new marketing content posted to a SharePoint List, and once approved, the marketing content will get posted to Microsoft Teams, to Twitter, and to the Flow app.
Step 1: Setting Up the Initial Flow
First, create a new SharePoint List called News. Add one column for Approvers and one column for News Body. Click on the Flow menu option, then select Create a Flow.

Note: Since Microsoft Flow is an independent cloud-based tool, you can also start creating flows from outside SharePoint or your current system, then use one of the provided Connectors to easily integrate your data and business processes.
From the browser, browse to https://flow.microsoft.com. Under the list of templates, filter on Social Media. If you are signed in to SharePoint Online, you will be able to browse to the same place by selecting Show more.
Select the Post list items to Twitter after approval template provided by Microsoft.

If you have not signed in to SharePoint Online and Twitter, select Sign In and provide the appropriate credentials. Once you are successfully signed in to both accounts, click Continue to start modifying the template. For now, we will start with this template and add more actions later.

The following graphical flow will appear and allow you to enter the SharePoint Site Address and List Name that you want to use in your flow.

For the Start an Approval step, we will use the Approvers Email for the Assigned To value, and we will set a reference to the item using its Link to item and Title, as shown below.

For Condition of the Flow, we use the default setting. Note that you may also change it to use custom conditions as well.

Next, add a new action to the Flow. We're going to use Post a message to Microsoft Teams. We can manually reorder the actions by simply dragging and dropping the action boxes.  Once successfully signed in to Teams, you can select the Team Id and Channel Id for the action. For Message, we will use our newly added column to the SharePoint List, News Body.

For the Post a tweet action, we will use Title and News body for the Tweet text.

Click Save Flow when finished. You can now view the Flow to see all settings, connections, analytics, and run history.

Step #2: Testing Out the Flow
Let's add our first piece of marketing content and try out our new automated flow.

Immediately, you will get an email to review and either approve or reject the marketing content. You can do this directly from your Outlook email or from the Flow app.

Once the Marketing Content is approved, a message is posted to Microsoft Teams and to Twitter. Note: You will need to make sure your News Body text is less than 140 characters to work with Twitter. Otherwise, the action will fail.


Step #3: Adding to the Flow
Next, let's add another action to our flow. We want Microsoft Flow to also send mobile notifications to our users. Go to Edit Flow, click on Add new action inside our If Yes condition. If you would like to have a new separate step, click on + New Step. Select Notifications from the template and then select Notifications – Send me a mobile notification.

We will use the News Body column for the Text, and we will use Item Link and Title for Link and Link label.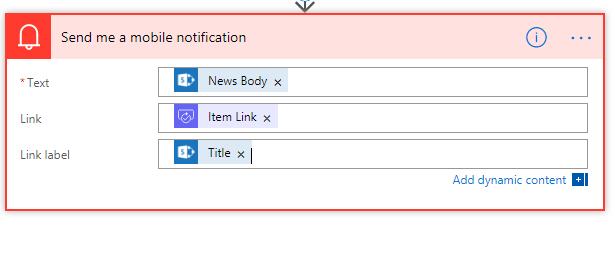 To be able to receive Microsoft Flow notifications, you will need to have the Flow app installed on your mobile device.  The Flow app is available for free in the Apple Store, Google Play, and Microsoft Store.
Note: This is different than SharePoint mobile app notifications, which are notifications sent from Microsoft Graph whenever news articles are created.
Once you install the Flow app and sign in, you will start getting push notifications from Flow. You can also create new flows using the Flow app on your mobile devices, if you so choose.

Ready to Learn More?
Whether leveraging a simple built-in template or a complex one, Microsoft Flow can help you and your team be more productive at your desk and on-the-go.
Ready to learn more? Contact the Imaginet Team to learn more about Microsoft Flow and what we can do to help you and your teams successfully utilize Microsoft Flow to automate and optimize your business processes today.
=====
Imaginet is your trusted technology partner who turns your business innovation ideas into reality. 20+ years | 1200+ satisfied customers | 2500+ successful engagements. Specialties include Web Application Development, Mobile App Development, SharePoint services, and more. Located in Dallas (Irving), Winnipeg, Phoenix, St. Louis, and Calgary with services offered worldwide. Contact us today at info@imaginet.com or 1-800-989-6022.