The way in which we use and interact with data has dramatically changed over the years. Originally, we leveraged static pictures and charts that captured a one-time snapshot of our data. But this is no long sufficient, as static visualizations only provide a historical view at a single point in time. Instead, interactive visualizations and real-time reports are now the demanded norm needed to turn massive volumes of data into immediate, actionable insights.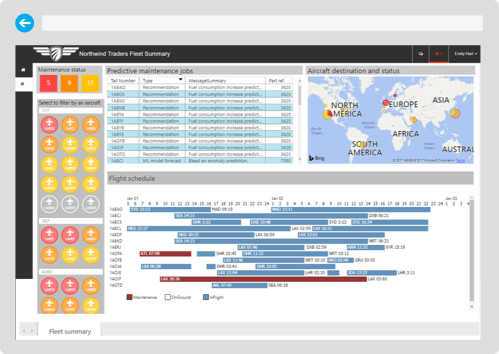 But there is another important data trend that is equally as impactful as real-time analytics: embedded analytics. Unlike traditional analytics that may be housed in separate disparate systems, embedded analytics allows you to integrate real-time data and visuals (such as dashboards, charts, reports, tiles, and more) directly into your own custom applications.
By providing more accessible analytics directly in your applications, you not only make your end users' lives much easier, but you also increase your application adoption and end user satisfaction.
Want to learn more about the benefits of using embedded analytics in your own custom applications? Here are two simple steps to get started.
Step 1: Download the eBook
To learn more about the power of embedded analytics, download the free eBook from Microsoft entitled "How to Superchange Your Application with Embedded Analytics".
In this eBook, you will learn:
The different ways business intelligence and embedded analytics are shaping the industry.
Why more customers will adopt your apps when you make analytics accessible.
How you can accelerate time to market, stand out in the marketplace and expand revenue streams by using an embedded analytics suite.
How using an embedded, off-the-shelf business intelligence solution reduces in-house development time.
Step 2: Contact Imaginet to Get Started
Ready to embed stunning, fully interactive reports and visuals into your own custom applications? Instead of tackling embedded analytics alone, contact Imaginet's Application Development and Power BI experts to help you get started.
From initial planning sessions to the detailed development expertise needed to work with the Power BI Embedded APIs and SDKs, Imaginet can help you successfully supercharge your new or existing applications with Microsoft Power BI Embedded analytics.
=====
Imaginet is your trusted technology partner who turns your business innovation ideas into reality. 22+ years | 1400+ satisfied customers | 3200+ successful engagements. Specialties include Web Application Development, Mobile App Development, SharePoint services, Business Intelligence, and more. Located in the United States (Dallas, TX) and Canada (Winnipeg, MB) with services offered worldwide. Contact us today at info@imaginet.com or 1-800-989-6022.