Customizing your SharePoint?
Here are some important considerations you wouldn't want to miss.
Customizations in SharePoint are always an interesting topic. Many clients remember the days of legacy SharePoint on-prem (2007, 2010,2013), where it was almost impossible to do anything in SharePoint without customizations. Some clients have started with SharePoint Online (MS 365) but have a desire to have customizations to provide a truly unique solution to their organization. If you ask Imaginet, "Should we customize in SharePoint Online," our answer is generally "no."
First off, full disclaimer, as a services organization, we love customizations. By default, customizations are more effort (and more $$$) to implement, and because you now have custom code, you are dependant on someone (usually us) to support and maintain your customizations. I remember the days of SP20xx when it was common for organizations to spend $100,000 to $1M+ on customizations. Then every three years or so, they would upgrade their SharePoint version, and we would have to update all those customizations for more $$$. Imaginet's roots as an organization is custom development with the Microsoft stack. This is still a huge part of our business, so trust me, we know how to customize SharePoint Online. We are very comfortable in the custom realm, and we still have clients that we do it for.
We generally say "no" to customizations because, for most of our clients, the benefits don't outweigh the costs. SharePoint Online is very mature now as a configurable SaaS solution. You can do almost everything you need from a SharePoint solution using the custom configuration (no code) vs custom development (code) model. This allows you to create SharePoint solutions much faster and much less expensive than going custom. Also, you avoid having to support/maintain those customizations as SharePoint Online updates and gets new features rolled into it. Remember with SharePoint Online, the product updates are based on Microsoft's update cycle, not your organization's update cycle. The other significant benefit of avoiding customization is that you can seamlessly accept new products and features from MS 365, i.e., Viva, without having to manage/update your custom elements.
Almost 100% of the time, if a client shows us what they want to do in SharePoint, we can do it with custom config vs. custom development. Often the motivation for custom development is not fully understanding what we can do with custom configuration. Because of this, Imaginet has developed a formal process for addressing requests for customizations.
Out of the Box vs. Customizations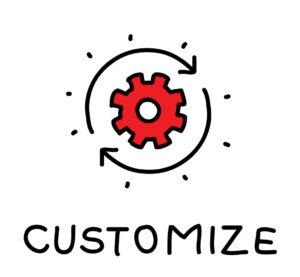 Imaginet always takes sustainability and future functionality into account with architecting a client solution. While the ability to customize SharePoint Online site designs has increased rapidly as the platform has evolved, Imaginet always executes and analyzes the benefits of implementing a custom solution compared to out-of-the-box solutions (OOTB). OOTB can often be implemented faster and with less effort; however, it compromises some requirements.
Solution Design Inventory
Imaginet will perform Discovery and Business Requirement Capture Sessions and create solution options. These options are documented in the Solution Design Inventory and are reviewed with our client to ensure proper alignment and direction before the transition into development. This approach allows for any changes to be identified and approved by Imaginet and the client team.
As the Solution Design Inventory is developed and reviewed, Imaginet will ensure proper communication to identify any requirements for customization that are not supported by MS 365. For example, customizations to the Waffle Menu, Suite Bar, Master Pages, and Page Layouts.
Implementing Customizations
When developing and implementing custom solutions, Imaginet will ensure that proper data collection and storage design are developed while ensuring the production deployment adheres to client change management requirements and procedures.
All custom solutions will be developed following MS 365 customization best practices and aligned patterns and practice guidelines for development and MS 365 deployment.
The custom web parts proposed will usually be developed in Angular. They will integrate with the Teams and Microsoft Graph API's to securely access site content and data.