Are you having some trouble making your day-to-day work schedule manageable? Microsoft developed an application that you can personalize recommendations that can help you manage your time and keep you up to date on tasks that need to get done for the day. Microsoft Viva Insights is part of Microsoft Viva. This application has a web feature and tools that can help people or businesses with data-driven, privacy-protected insights, and recommendations to improve productivity and wellbeing. As for the Viva insight topic, we will be focusing mainly on the Outlook Add-in of Viva Insights. Before you get started using the Add-in ensure you have the following requirements met:
Have an applicable Microsoft 365 plan and at least 24 hours have past since the license has been activated and assigned.
Have a valid mailbox. Shared mailboxes will not work with this Add-on unless it was a user mailbox from the start.
Your computer must have these minimum requirements:
Microsoft Outlook Version 1705 (build 8201.2102) or higher for Windows, or version 15.39.1010 or later for Mac.
Add-In commands are enabled for the outlook add-in.
Internet Explorer version 10 or 11 is installed on your computer. Any modern browsers such as Google Chrome, Firefox, etc… will also work.
Opening the add-in
Outlook Desktop application
1.     Open and sign into the Outlook desktop app
2.     Click Home on the Ribbon then select Viva Insights

Outlook on the web
1.     Open a browser, go to www.outlook.office.com and sign in.
2.     Open any email message
3.     Click the ellipsis … then select Viva Insights.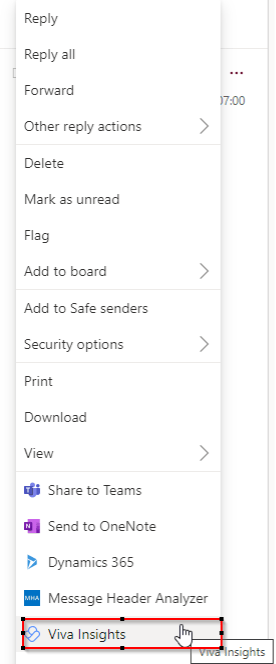 Viva insights will show you different recommendations you can do to help you make your day-to-day manageable and keep you on top of your email follow-ups, meetings, and tasks.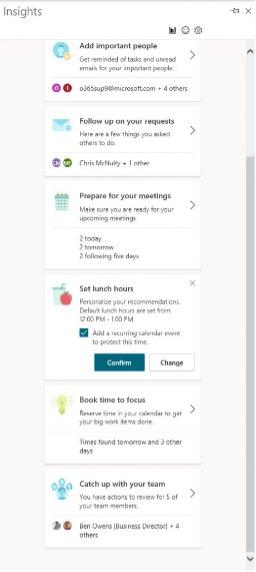 Visiting this link will show you a breakdown of your work habits.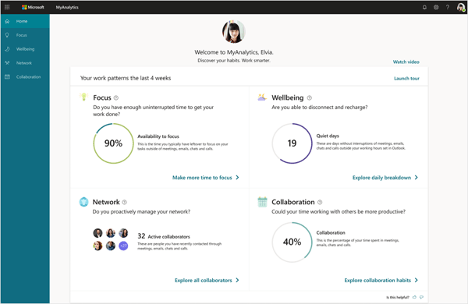 Going into each category offers different ways to accommodate more time to get work done and stay on track! Are you interested? Click this link for more information and get started using Viva Insights!
Let us build something amazing together
Connect with us.
With over 20 years of experience working with Microsoft Technologies, Imaginet can help you choose the right Microsoft 365 solution to adopt an effective hybrid workplace model and improve employee engagement. Contact us to get your free virtual consultation.
Like what you read?
Check out our recent articles.
Using Entitlement Management to Provide External Access to SharePoint Online
Azure Active Directory (Azure AD) entitlement management is an identity governance feature that enables organizations to manage identity and access lifecycle at scale, by automating access request workflows, access assignments, reviews, and expiration.
Read More