Power BI Licensing Simplified

You're interested in using Power BI for your organization, and you want to determine what licenses you'll need to buy and how much your monthly costs are. It's a little confusing to know what you will need, and I hope this will help you.
Here are the licenses available for Power BI (in USD).

If you are in the <TL,DR> crowd, you can skip to the Monthly Cost Scenarios section below, or just know this:
You need a Pro license for everyone in your organization that will be creating Power BI content for others to see (contributors).
The Free license doesn't allow users to see the content published by Pro users, so you need a Pro license for everyone that needs to see Pro content (viewers). There is no cheaper license for read-only viewers in Power BI.
Power BI Premium capacity licenses aren't cost-effective until you have about 500 or more viewers. (This is a bit of an over-simplification; there are other reasons besides cost-effectiveness why you might need Premium or Premium Per User licenses.)
Power BI free
You can get started with Power BI for free. You can install the Power BI Desktop application from the Microsoft Store and start building datasets and reports on your own Windows PC. You can use Power BI Desktop to view your reports as well. You can get started with the Power BI Service too by signing into the web portal at https://app.powerbi.com with your work email. If you already use Office 365 you would use that email address and password to sign up. You'll get a Power BI free license when you first sign up. In Power BI Desktop, you can sign into the service and then publish your report or dataset to your own private workspace in the Power BI Service. Then you can log into the Power BI web portal and see the report you published.
However, no one else can see your report (unless they login using your email address and password). You have a Power BI free license, but you can only see your own content in your private Power BI workspace.
If you're a sole proprietor in a small business, maybe that's sufficient for you.
Power BI Pro
Usually, you want to be able to share Power BI reports and dashboards with other users in your organization. To share content, you need a Power BI Pro license, which is a license per user, usually about $10 (USD) per month.
With a Pro license, you can create new workspaces (usually with topical names like Sales, Production, or Inventory) in the Power BI web portal and invite others in your organization to see the content there – either as a viewer or a contributor, or perhaps even an administrator. Those other users need to be from the same organization as you – usually that means they have the same last part of their email address as you do (everything after the @ sign). Those users will also need a Pro license to see the shared workspace. Users with a Power BI free license cannot see Pro workspaces.
Power BI users tend to be of two types –contributors who create and publish Power BI content like datasets, reports, and dashboards, and viewers who consume those reports and dashboards. Both of those roles require a Pro license. This is the simplest scenario – anyone who is authoring reports or viewing reports requires a Pro license.
There are two other types of Power BI licenses, besides the free and Pro licenses – Power BI Premium and Premium Per User (PPU).
Power BI Premium
The Power BI Premium license is different from the Pro license because it is not a "per user" license (we'll get to Premium Per User later). Power BI Premium has a fixed monthly cost (starting at $4995 per month) and is known as a "capacity" license – essentially it is like renting a server from Power BI – it has a certain number of processors and can handle a certain sized workload of Power BI activity. There are three capacity levels, P1 through P3, and each one doubles in size from the previous: P2 is double the size of P1, and P3 is double the size of P2. The monthly cost of each level is also double that of the previous level. You can buy Premium capacity licenses with a month-to-month or an annual commitment which gives you a discount.
The Premium capacities can handle a certain amount of Power BI workload – concurrent operations from users like viewing reports and dashboards, exporting data, and refreshing datasets. There isn't a limit to the number of concurrent users, but if there is a lot of workloads simultaneously, then users may notice some delays, and some operations may take longer than if there was less concurrent operations. (Power BI also sends a notice to the administrator of the capacity license that the limit was hit.)
One big difference between premium capacity licensing of Power BI is that users who need only to view reports and dashboards don't need a Power BI license to do so. Any Power BI workspaces that are associated with a Premium capacity can be visible to any user in your organization that has been given permission.
However, the users that are publishing content to the Power BI service still need to have a Pro license – the Premium capacity license only covers users who are viewing the content in a Premium workspace.
Premium capacity licenses have a few other features not related to licensing – their limits on the size of individual Power BI datasets and the combined maximum storage space are much larger than Power BI Pro workspaces. Pro workspaces have a limit of 1 GB memory per dataset and 10 GB total storage per workspace. A 1 GB Power BI dataset is pretty big – it would correspond to about a 50 GB SQL database that had millions if not hundreds of millions of rows. And Premium workspaces can also host Paginated Reports – these are the Power BI equivalent of SQL Server Reporting Services reports. And there are a few other capabilities of Premium workspaces that are useful for developers and give more options for enterprise deployments of datasets and reports.

Power BI Premium Per User (PPU)
The final license type to consider is Premium Per User (PPU) – at $20 per month, this is twice the cost of a Pro license, but it gives you nearly all the features of a Premium capacity license. The major difference is that PPU licenses are assigned to specific users, unlike a Premium capacity license which allows users to see Premium workspaces without having a Power BI Pro or PPU license. You might consider using PPU licenses if you don't have enough use to justify a Premium capacity license, but you are exceeding the size limits of Pro workspaces or you want another Premium feature, like Paginated Reports. Like Premium capacity licenses, the shared workspaces in Power BI must be configured as Premium Per User workspaces to get the Premium features like the larger sizes and Paginated Reports. Once a workspace is configured as a PPU workspace, only those users with PPU licenses can view those workspaces – anyone with a Pro license cannot see PPU workspaces.
The Premium page of the Power BI workspace settings shows the different types of Power BI workspaces.

For Premium Capacity and Premium Per User workspaces, they can be identified by the diamond icon in the Power BI service portal.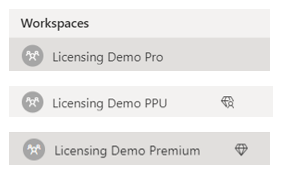 Where To Buy Power BI Licenses
Most Power BI licenses are purchased through your Microsoft 365 Admin center (https://admin.microsoft.com). You can also get them through your Microsoft Enterprise Agreement or an Authorized Microsoft License Reseller. You manage the assignment of Power BI licenses primarily in the Office 365 Administration portal.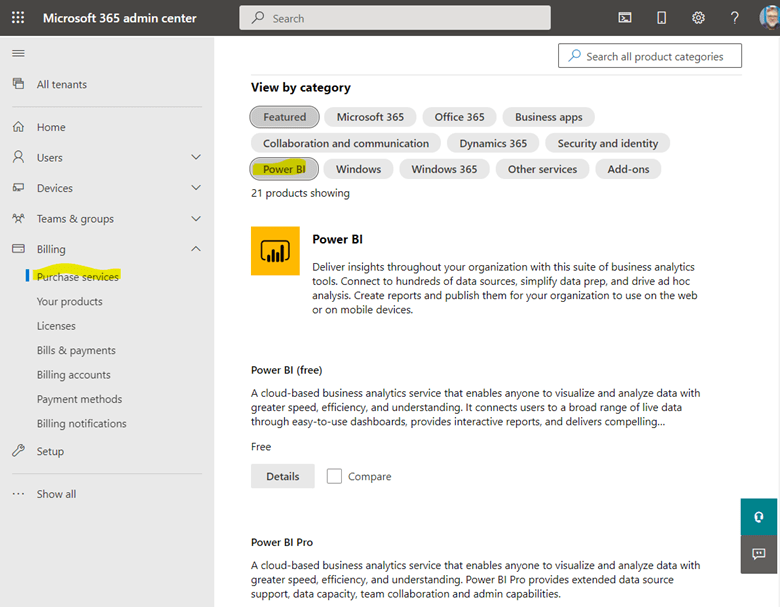 One more licensing option is Power BI Embedded, which is designed for embedding Power BI reports and dashboards in mobile, desktop, or web applications, and is like a Premium capacity license in that it does not require individual users to have a Power BI license. However, it has a different authentication mechanism from all the other Power BI licenses, and it is purchased through an Azure subscription, not in a Microsoft 365 tenant.
Monthly Cost Scenarios
So, how do you decide when you need to buy a Premium license, based purely on how many users you have?
Let's use a simple scenario first: you have 15 users who will be creating Power BI content and publishing to the Power BI service, and 85 users who will be viewing the content in Power BI. Let's call those two groups Contributors and Viewers.

For just Power BI Pro licenses, your monthly cost will be $1000. If you need Power BI Premium Per User licenses, then it's $2000 per month. If you choose Power BI Premium P1 capacity, your monthly cost will be either $5145 if you commit to an annual subscription, or $6145 if you choose a month-to-month Premium subscription. Note that for the Premium capacity license, you don't need a Pro license for your viewers, but you still need a Pro license for the contributors.
Power BI Pro vs Premium Break-even
If you don't need the Premium features, you can license up to 500 viewers with Power BI Pro licenses before the Premium P1 (annual) capacity license is more cost-effective.

Power BI PPU vs Premium Break-even
If you need the Premium features, then you can license up to about 242 viewers with Premium Per User (PPU) licenses before the Premium P1 (annual) capacity would be cost-effective.

Note that both the viewers and contributors would need PPU licenses in this scenario. With a Premium capacity license, the contributors do not need PPU licenses, just Pro licenses. (In case you're curious, the break-even viewer licenses, when compared to the Premium P1 month-to-month ($6,145 monthly), is 600 viewers with Pro, or 292 viewers with PPU.)
There are also scenarios where you only have some PPU workspaces, and some that are Pro workspaces, and you have a subset of users that need access to the PPU workspaces. In this scenario, some of your viewers get Pro licenses, and some get PPU licenses. Users with PPU licenses can see both Pro and PPU workspaces, while those with Pro licenses cannot see the PPU workspaces.
Recommendations
If you're just starting out using Power BI, you should first purchase Power BI Pro licenses for the users who will be creating your reports and dashboards. Then you can start licensing the viewers of those reports as they become available. Power BI also has 60-day trials of both the Pro and Premium Per User licenses so take advantage of those offers.
If you are running into the size limits in Power BI Pro workspaces, or you want to use Paginated Reports, you should consider Premium Per User licenses to get those features.
Finally, you should consider purchasing a Premium capacity license if you have a large number of users and licensing them with Pro licenses is no longer cost-effective or practical.
Imaginet's Data Engineering and Business Intelligence team is here to help you succeed with Power BI and your data analytics needs. We have many more recommendations and best practices for building your Power BI ecosystem to make it effective and valuable in your organization.
Let us build something amazing together
Connect with us.
With over 20 years of experience working with Microsoft Technologies, Imaginet can help you choose the right Microsoft 365 solution to adopt an effective hybrid workplace model and improve employee engagement. Contact us to get your free virtual consultation.
Like what you read?
Check out our recent articles.
Understanding Organization-Wide Signatures and Disclaimers in M365
To create an organization-wide signature, you'll need to access the Exchange admin center in M365. From here, you can go to "Mail flow" > "Signatures." From the Signatures page, you can create a new signature and apply it to all employees in your organization. You can also edit existing signatures, as well as delete signatures that are no longer needed.
Read More