Work confidently with powerful
project management tools
Traditionally delivering projects in the Software Consulting world has always been focused on using Project Management tools like Microsoft Project and Project Management Systems. However, with resources and project teams being remote and scattered across many locations and time zones, these traditional tools haven't really lent themselves to the versatility of agile software project delivery methodology.
At Imaginet, we are a Microsoft Gold Partner, so can we utilize all the advantages of Microsoft 365 Tools and its capabilities. We have overhauled our Project Delivery Process with the vision to exceed our clients' experience with us, but also create an organization-wide delivery consistency for all our Consulting resources to follow with ease to support our clients. We have achieved this using Microsoft 365, PowerAutomate and Planner.
When the Project transitions from the Business Development/Sales cycle to a signed Statement of Work a Project Setup workflow request form is filled out. This Form and Workflow support a sequence of events creating a Teams Channel for collaboration, calendars, and communication, with a back-end connection into a SharePoint Document Site storage. This workflow also communicates to the resources assigned, that they are now added to a new project, along with an access link to the SOW for their review to understand the scope before starting the project with the client.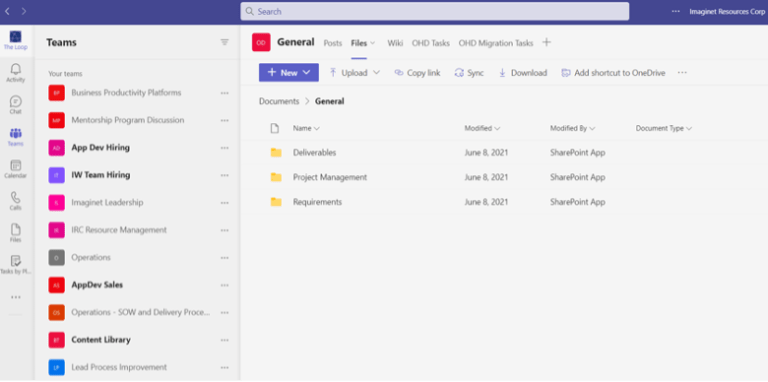 We have a set series of folders that are applied to the Project Team Channel that creates this consistency. It supports a simplified Software Development Life Cycle. We have folders to store client-received requirements documents and a delivery folder for Imaginet developed deliverables, as well as a full Project Management collaboration where we store all project management materials, for SOWs, Change Requests, Schedules, Status Reports, Budget Trackers and Project Close-Out Report.
This Project Setup Process has been a game-changer in keeping all Imaginet team members informed and aware of their projects and the consistency helps our team members focus their efforts on elevating the consulting experience with our clients instead of trying to find documentation and figuring out how to collaborate as remote teams.
From a Project Management perspective, this consistency allows for complete transparency with all areas of the project and affords the principles of Agile Methodology with accountability for each member on the team. It is also valuable for the PMO and Project teams, if the Project Manager goes out of office, to have a backup to provide continued service to our clients. This is achieved through the consistent process that all team members in the organization adhere to and follow. The elimination of writing long emails, with links to documents and details is negated with this process and saves a lot of time and effort.
We also incorporate Microsoft Planner into this process, and add it to the Team Channel, as well as having a weblink for our clients to access for visibility on project progress. We plan out and assign the tasks using Planner to emulate the phases of the delivery cycle and our resources are accountable for monitoring and updating their tasks on the planner board. This is a fantastic tool for using remote resourcing and supporting remote clients having visibility into a real time status update on the project progress.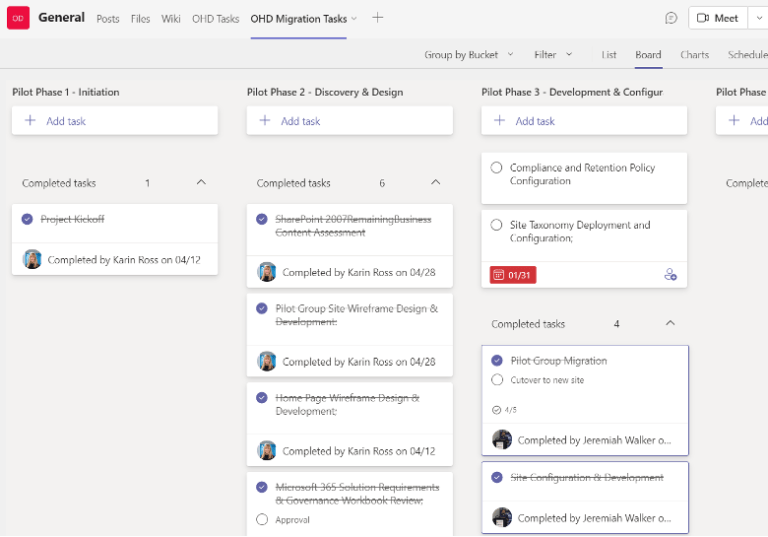 As a project manager, I love the Microsoft 365 ecosystem, which allows me to communicate, collaborate and track my projects with our clients and my team members. This consistency supports our teams being prepared for our customers. It also allows for continuous improvement of our delivery process because of looking for efficiencies with managing and delivering projects.
Let us build something amazing together
Connect with us.
With over 20 years of experience working with Microsoft Technologies, Imaginet can help you choose the right Microsoft 365 solution to adopt an effective hybrid workplace model and improve employee engagement. Contact us to get your free virtual consultation.
Like what you read?
Check out our recent articles.
Understanding Organization-Wide Signatures and Disclaimers in M365
To create an organization-wide signature, you'll need to access the Exchange admin center in M365. From here, you can go to "Mail flow" > "Signatures." From the Signatures page, you can create a new signature and apply it to all employees in your organization. You can also edit existing signatures, as well as delete signatures that are no longer needed.
Read More