Our Angular Development Services
Experience the Imaginet Difference.
Now.
Cut time-to-market (TTM), increase flexibility and agility, and save development money with Imaginet's Angular Development Services. Imaginet's exceptional grip of Angular enables us to design, develop, deploy, and support innovative business apps to meet all your enterprise needs.

STRATEGY & PLAN
Fast-track your rough Angular app ideas into reality with Imaginet's award-winning strategy, planning, and roadmap services.
Assessment & Planning Workshop

DESIGN & UX
Enhance the user experience, boost user adoption, and absolutely delight your end users with Imaginet's UX and design services.

DEVELOPMENT
Bring your vision to life with Imaginet's trusted architecture, development, and consulting services.
Build a New Angular App

Modernize a Legacy App

SUPPORT
Gain productivity and peace of mind by letting Imaginet manage and sustain your existing Angular apps for you.
Support an Existing Angular App
Our Engagement Models
Flexible Models.
Tailored for You.
Imaginet offers flexible engagement models to provide you with the most convenient way of working with you on your Angular project.

New Web Apps
Need a brand new web app? Imaginet designs, develops, and deploy greenfield apps using Angular and industry best practices.

Existing Web Apps
Have an existing app? Leverage Imaginet's Angular team to help you with new feature development, debugging, support, and DevOps.

Team Augmentation
Need to add more developers to your team? Our Angular team can help you add capacity and develop faster by seamlessly integrating with your team.
Our Clients
Happy Customers.
Worldwide.
Imaginet has been at the forefront of the industry for more than 20 years, delighting over 1,200 customers worldwide.


















From the five engagements that we have done with Imaginet so far, we've been really, really happy with each one of them. Imaginet is a really good company to work with, and their reputation speaks for itself.

MICHEL THIVIERGE, Director of Application Architecture, DataScan Holdings
Imaginet is the easiest and most knowledgeable technical partner to work with. They spend time to understand your business and help you implement the best solution for your customers. You can't find an agency that is more responsive or provides more quality information than Imaginet.

ALI ISHAM, Marketing Director, Overhead Door Corporation
The Imaginet team provided us with a high level of confidence in their ability to deliver the technology and solutions our teams required. Imaginet delivered beyond our expectations. The positive results we received can be seen in our process, our tools and also heard, as voiced by our global user community.

JON AGUILAR, SW Process Controls Manager, Landis+Gyr Worldwide
The Imaginet team's focus on collaborating daily with the business to deliver high-value features has allowed us to achieve our business results sooner than we thought possible.

JENNIFER BURRY, Business Analyst, Gibsons Energy
What's New with Web Application Development
Updates, Rumors, Tips.
And More.
Keep up with the latest on Web Application Development, including updates, rumors, tips and tricks, and more. Read what's new to stay in-the-know.
Are you concerned about how your database is performing for your application? Did you know that there is a built-in feature in SQL Server and Azure SQL that you can use to evaluate your database for potential problems? Query Store has been available since the introduction of SQL Server 2016, and is enabled by default in Azure SQL and Azure…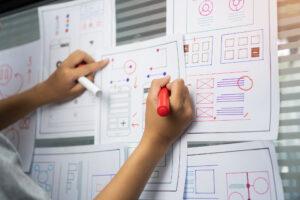 UX and Dev: A Perfect Partnership Benefits of working with a UX designer from the perspective of a developer There are many benefits of utilizing a UX designer's expertise during a project, which include making it more efficient for the development team to implement the functionality. At a high level, a UX designer focuses on improving the interactions between a…
[gravityform id="2″ title="false" description="false"]