Business Situation:
This fast-paced energy services company had minimal software development experience for the business unit and needed to address evolving business needs with new technology. Teams and customers were located across North America. The client required a consistent organizational mindset.
Solution Story: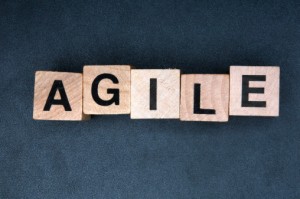 Imaginet was engaged to implement an Application Lifecycle Management Adoption Services (ALMAS ™) along with Agile adoption and process coaching,technical mentoring, and the development infrastructure setup on Microsoft Team Foundation Server (TFS).
Imaginet's Application Lifecycle Management Adoption Services (ALMAS™) are a set of services specifically designed to help organizations adopt an Agile or Lean culture and mindset, or to take their current implementation to the next level. Culture change is not easy, and the process and technical debt owed to teams and products became significant for this client.
A key part of the Imaginet ALMAS™ approach to adoption is a focus on the people involved with the initiative and to create a culture of self-sufficiency. In order to create a fully cross-functional agile development group, a brief but important assessment was done to understand their current culture, environment and capabilities.
A tailored training program was delivered by Imaginet's Certified Scrum and Kanban trainers. This program taught and reinforced key agile tactics such as user stories, iteration plans, retrospectives and estimations.
Imaginet's team helped developers to understand unit testing and test driven development, user story decomposition into tasks, and software delivery within the context of an iteration.
A significant investment was made in the tools. In order to deliver high-quality software frequently, Imaginet's award winning ALM team implemented a state of the art development tool ecosystem with Team Foundation Server (TFS) 2010 as the core component.
TFS provided key features and functionality for all of the team members on the delivery team; Visual Studio 2010 Ultimate for the developers on the team, Microsoft Test Manager 2010 for the QA professionals and TFS capabilities of source control, automated builds, work item management and lab management.
In addition to TFS, TeamPulse by Telerik was selected as the day-to-day agile project management tool. TeamPulse provided rich visualizations and dashboards for the team to delivery quickly and effectively.
One of the project goals was to create a capability to bill tomorrow for the work done today. This goal was achieved because the partnership between business and the delivery team focused on delivering the most valuable features early in the project.
The ALMAS™ approach ensured an organizational culture of quality pervasive in all aspects of the software development process.
Total Duration: 11 months
Value Provided
Fully functional Agile team with fulltime business involvement
Capability to delivery business features bi-weekly
High quality product
Demonstrated improvement in business financial results due to delivery of aligned business features
[gravityform id="2″ title="false" description="false"]