Business Situation:
A start-up company whose business model disrupted the truck transportation industry needed to develop a web portal for their chassis rental and leasing customers. They wanted to provide the transportation industry with a turnkey software solution for easily extending their assets to online leasing and payment processing, while maximizing nationwide inventory utilization.
This company required an innovative development partner who could not only provide a road map and system architecture, but who deeply understood the constraints of start-up business and how to create exceptional value for the end user.
In partnership with Imaginet, they conceived a core business and online service that allows inter-modal chassis rental and leasing companies to lease their inventory online. This satisfied a market gap for truck owners to find and lease chassis by location, date, quantity, and type, on any device.
Solution Story:
Imaginet translated the extensive business requirements for this start-up into workable technical requirements. Imaginet implemented their Agile ALM capabilities to rapidly create and deploy a Windows Azure based web portal and back-end booking engine for an immediate release to market.
After the initial integration with chassis vendor booking systems, Imaginet developed the library for their inventory and access to gate activity from each location to simplify the leasing process. PayPal integration was also performed for processing leases via credit cards.
Throughout the initial Microsoft web implementation, Imaginet designed and implemented improvements, bug fixes and other changes to the application. System testing and performance monitoring occurred through the entire rollout of system from development to production environment.
The application portal was extended into a hybrid cross platform mobile app that allows trucking companies to reserve and pick up trailers while on the road. As a result, this provided end-to-end chassis rental and leasing capabilities to customers on-the-go, right at their fingertips from their mobile devices.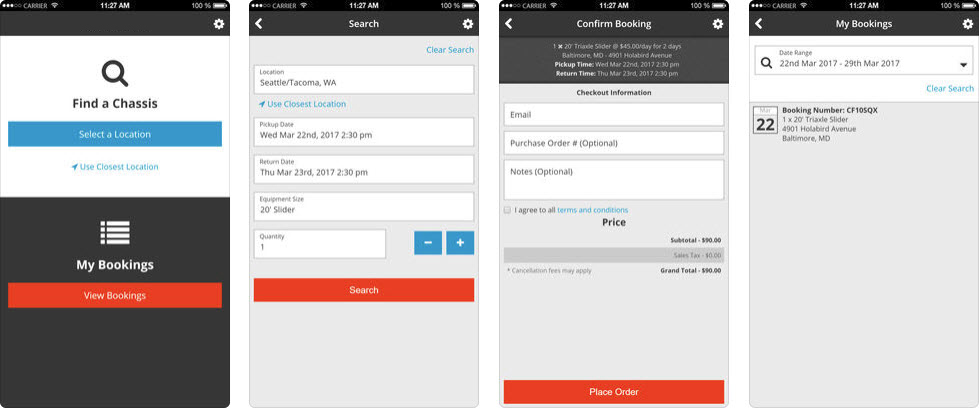 Imaginet created the hybrid mobile app using the Apache Cordova framework. Telerik AppBuilder was used to develop, test, and publish the app to both the Google Play store and Apple iTunes store. Kendo UI was used extensively for most of the app, but other various JavaScript plugins were also used for specific purposes. The development team also added new API calls to the website's C# .Net backend for the mobile app to get access and modify data as required.
As part of the mobile app extension, Imaginet's UX team updated the web application to optimize it for mobile devices. The processes used to develop a responsive design included;
• User Needs Analysis
• Wireframe Designs
• High Fidelity Mock-Ups
Imaginet continues to work with stakeholders and vendors to plan and schedule new features and bug fixes. Imaginet is this client's sole provider of all technology services including:
• Website support and maintenance
• Application hosting with monthly reports of Azure services provided for development and production
• Project management with regular updates of features and tasks
• Application feature estimation, design, development, implementation, testing, and deployment using the Agile ALM delivery framework
• End user training including one-on-one feature walk-throughs and recorded video demos demonstrations
Total Duration: 1.5 years (ongoing)
Value Provided
Translated business requirements workable technical requirements
Architecture and development of the entire IT solution for rapid product release to market
Consistent customer experience across web and mobile clients
Robust ALM development practices to ensure software stability
[gravityform id="2″ title="false" description="false"]