Getting Ready:
Digital Transformation for Credit Unions
For decades, we've seen the rise and fall of a variety of corporations due to changes in technology. We've seen well-known companies in the movie rental, photography, and retail industries disappear quickly, while others seem to have appeared overnight – all because of their ability to transform digitally.
Why did it only take a few years for Blockbuster to be disrupted by Netflix? Why is Uber successful despite owning any vehicles? How did AirBnB take over the hospitality industry without owning any buildings?
How do credit unions transform digitally to remain relevant and succeed in today's evolving environment?
Since 2002, Google, Amazon, and Netflix joined the S&P 500 stock index. During the same period of time, Kodak, the New York Times, Palm and Compaq lost market share and dropped from this same list.
Today, fintech companies such as Acorns or online lending portals like MortgageHippo are encroaching upon the newer, digitally savvy credit union customer. Credit unions are concerned that they are rapidly losing relationships with their customers, and their money.
So what role do credit unions have to play in this game? They are accountable to bring real value to  their members and communities (as opposed to big banks have owners and stakeholders). Traditional approaches such as branch-only services have become insufficient for customers and employees. Attracting, retaining and engaging them has become paramount.
Credit unions are facing a big opportunity: to be bold enough to get into the digital game and embrace digital transformation to endure the long-term. The only way to survive and grow exponentially, is to go digital.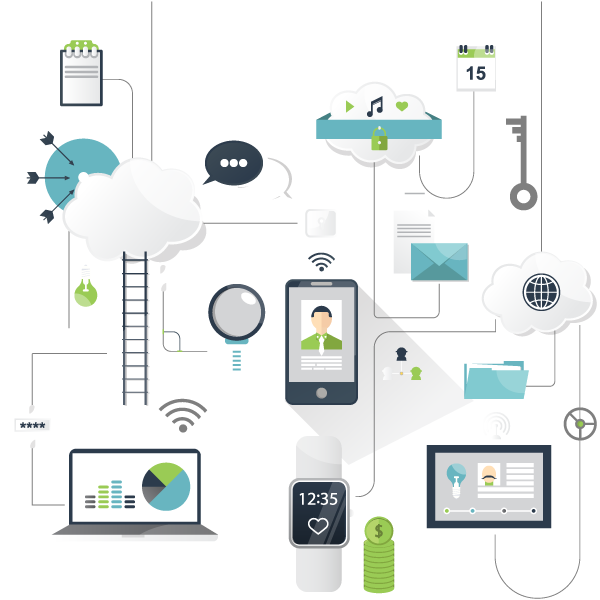 Digital Transformation for the Modern Workplace
The demand for the ability to work remotely is growing. The New York Times wrote that in 2016 "43 percent of employed Americans said they spent at least some time working remotely. That represents a four percentage point increase since 2012, a shift that meets the demands of many job seekers."(1)
People have diverse collaboration, productivity and access requirements to get their work done. The modern workplace looks to replicate the experience of a person working in the office, but digitally – whether they are sitting (or standing) in coffee shops, home offices, hotels and boardrooms.
The modern worker wants the option to communicate with teams and customers from wherever they are, so when the phone rings at their desk, it better be ringing on their cell phone at the same time. The outbound calls they make from home or the hotel should offer the same experience as they would from the office, with the same phone number.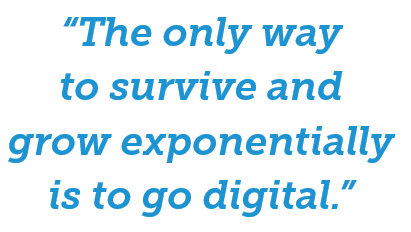 Beyond the phone: how do you engage coworkers to collaborate remotely? How do employees communicate across the organization and with other teams?
How about video enablement or instant messaging? Or, a collaboration feature that allows an employee to share their screen with someone else, and have both working on the same document simultaneously?
A modern credit union helps to create an environment where employees can work from home two to five days a week, saving dozens of hours per month on commute time and fuel costs, for example. Or, it helps reduce the real estate footprint in a big city by having a number of smaller, more agile credit union locations instead of a main branch. This way, there is less investment needed for office space and a large headquarters. When you have more people working from home, you need smaller buildings to maintain, lower taxes to pay, and you may even rent out space to others, making extra money. These examples are only limited by the needs, processes and creativity of the credit union team.
Digital Transformation for the Modern Member Experience
Customers are looking for new ways to directly engage with their credit union, and digital transformation allows for new relationships to be formed and maintained in ways that they couldn't do before.
For example, a farmer needs a loan – their tractor needs a repair, or they need to buy a new one. Using a smartphone, the credit union member can hold a Skype meeting with the credit union representative, while standing beside the tractor. The member can instantly show it and discusses the loan amount required, and the credit union representative can communicate directly through the same device.
Credit union apps are also becoming popularized because they conveniently enhance the entire customer journey. Some of the best credit union apps provide all of the expected services such as ATM locators, notifications, and transaction histories, but also provides mobile depositing and money management tools that allows members to view charts and analyze their spending habits.
Other app features such as person-to-person payments and wearables integration have also been developed to address the modern member experience. These are only some examples of how the technology that credit unions possibly already own can be used to radically improve member experiences.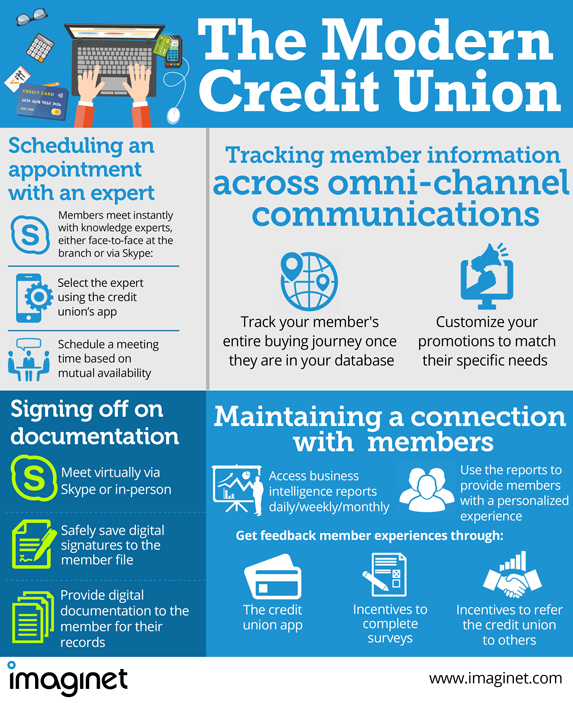 Digital Transformation and Compliance Requirements
Security and compliance are demanding on credit unions, and can only be met through mature digital processes. Digital compliance, especially in the cloud, saves internal IT departments time and money, allowing them to focus on providing value to the community and its members.

Credit unions have other challenges. To often, different applications and tools available to credit unions do not integrate with legacy technologies or on-prem architectures. Proper data protection is another major source of concern. The growth of the cloud offers solutions to many of these problems. By partnering with cloud collaboration and productivity experts, credit union teams can smoothly and pain-free address the challenges of security, accessibility, reliability, and ease-of-use.
Other ways that credit unions can move towards digital compliance include: developing custom applications and automated process, enhancing security protocols, integrating omni-channel tracking and business intelligence reporting, just to name a few.
Digital Transformation Toolkit
It's not news that digital technologies are transforming the business landscape for credit unions, but the digital technologies used within the credit union are still in their infancy, especially the ones that serve smaller rural communities. They are at the forefront of being disrupted within the next 10 years, and must start thinking seriously about what they want in their digital toolkit to be able to transform.
The rate of digital complexity is accelerating as quickly as customers are sourcing other ways to manage their money. A diverse, changing and distributed workforce is calling upon their employers to provide them with the tools they need to attract, engage, retain and track customers. All of these changes require a strategic, well planned approach, and should be designed and architected with a proper assessment delivered by expert technology firm that keeps up to date with best practices.
By working with a trusted Microsoft Gold Partner such as Imaginet, credit unions can maximize the use of their investment and platform. Imaginet partners with credit unions of all sizes to remove the confusion around digital transformation, Microsoft products and adoption, and how they provide value to the organization and its users.
Imaginet is a partner who will not only help credit unions with today's challenges, but will be preemptive of their need to digitally transform and compete for tomorrow.
 1 www.nytimes.com/2017/02/15/us/remote-workers-work-from-home.html?mcubz=0